Merry Christmas, Happy Hanukkah, & Happy New Year!
A client emailed me wanting to know the "changes in the tax bill that passed, both positive and negative, without all the political mumbo-jumbo." I imagine many of you feel the same way, so that is what I'm going to attempt to do. I must warn you, this blog is long, but comprehensive.
To be clear, almost all of the new tax bill is effective for the 2018 tax year. See the effective date chart further down that visualizes the effective date of the more popular provisions.
The new tax bill impacts each and every taxpayer in a different way, so there is no one size fits all. Take a look at the categories below and see what impacts you and analyze.
One of the biggest plays for end of the year is paying in 2017 state tax to be owed by 12/31 and paying the April 2018 real estate tax by 12/31, especially here in CA. With the new tax bill capping combined real estate taxes and state income taxes at $10K (personal taxes, not rental real estate taxes or farm rental real estate taxes) for 2018, folks are paying in the 2017 state tax and the April property tax by 12/31 (if they know they'll max out the $10K state tax and property tax deduction in 2018 already) to hope to get the deduction in 2017 if they are not in AMT. If your itemized deductions are not more than the 2017 standard deduction amounts ($6K single, $12K married), then there is no reason to pay any state tax owed by 12/31.
Some of you might be thinking, why don't I just pay all of my 2018 state tax less $10K in 2017 if I'm not in AMT. The tax bill thought of that and one of the 1100 pages of the tax bill (can read full bill here) Sec. 11042(a) states you cannot pay state and local income tax imposed for a taxable year beginning after 12/31/2017.
Be sure to read below about a special 20% deduction for Schedule C, Schedule F, Schedule E, and pass-through entities.
Here is what the Tax Foundation (hopefully nonpartisan) says is the impact of the new tax bill under 8 scenarios.
When will my paycheck be more? The IRS estimates that the Federal withholding tables will be adjusted in early February, meaning they will start to withhold at the lower tax brackets in February and your paycheck should reflect that.
New Individual Tax Brackets of 10%, 12%, 22%, 24%, 32%, 35%, and 37%: Take a look at your current tax bracket for your taxable income and filing status and see where the new 2018 tax bracket is for the same taxable income: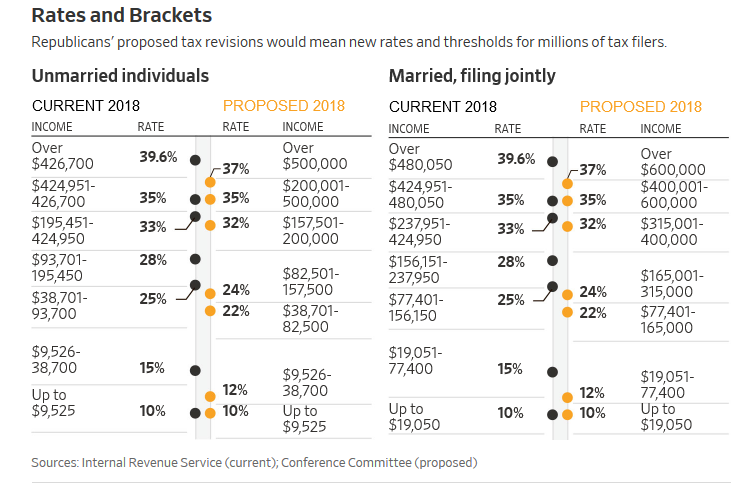 When key provisions end and begin: The tax bill has several starting dates and ending dates, see key provision dates below: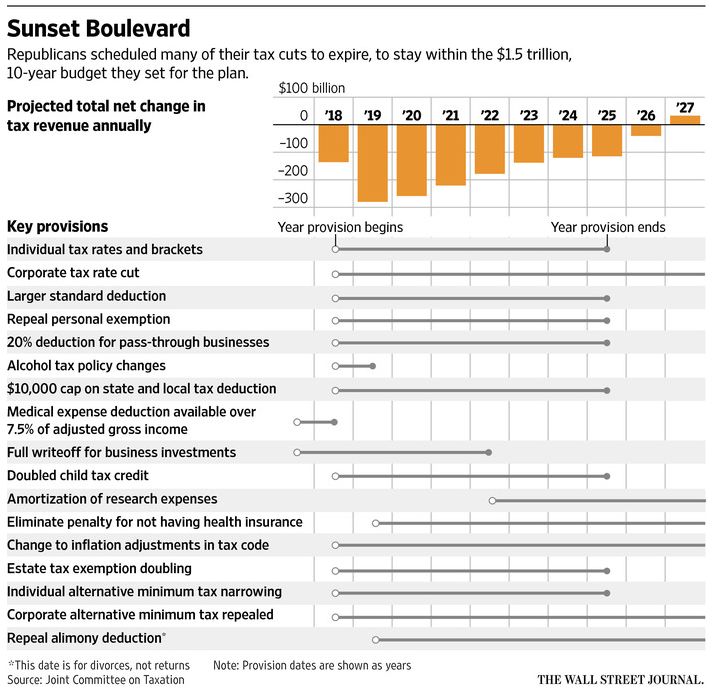 LIST OF ADDITIONAL TAX BILL CHANGES:
Standard Deduction Increase and Personal Exemption: Increases the standard deduction to $12,000 for single filers, $18,000 for heads of household, and $24,000 for joint filers in 2018 (compared to $6,500, $9,550, and $13,000 respectively under current law). Personal exemptions ($4K per person) is eliminated. For a single individual, the net result of the increased standard deduction and personal exemption elimination is an additional deduction of $1,500 ($3K for married).
Mortgage Interest: Limits the mortgage interest deduction to the first $750,000 in principal value. For homes purchased before December 15, the mortgage deduction limit is grandfathered in at $1M. No limit on rental mortgage interest, considered trade or business. In 2026, this provision reverts back to $1M.
Home Equity Debt: Interest paid on home-equity loans will no longer be deductible beginning in 2018, with no grandfathering in. In other words, if you already have a home-equity loan or line of credit, this is the last year you can write off the interest paid on it. In 2026, this provision will revert to current law, which allows a deduction for interest paid on up to $100,000 of home-equity debt.​​
Second Home/Vacation Home Interest: Interest on second home/vacation home is allowed as before, excpet that the total loan limit for combined personal/second home is $750,000 (instead of $1M). The tax bill approved by the conference committee allows taxpayers with existing mortgages to continue to deduct interest on a total of $1 million of mortgage debt for a first and second home. For new buyers (meaning December 15, 2017 and after), the $1 million limit drops to $750,000.
SALT $10,000 Max: As discussed above, the bill limits the deductibility of 2018 and future property taxes and state and local income taxes to a combined $10,000.
Child Tax Credit: The child tax credit has doubled to $2,000 for children under 17. It's also now available, in full, to more people. The entire credit can be claimed by single parents who make up to $200,000, and married couples who make up to $400,000.
​New tax credit for non-child dependents, like elderly parents: Taxpayers may now claim a $500 temporary credit for non-child dependents. This can apply to a number of people adults support, such as children over age 17, elderly parents or adult children with a disability.
AMT Increased Exemption: The exemption for the alternative minimum tax (AMT) increases from $86,200 to $109,400 for married filers. The exemption phases out starting at $1 million, up from $164,100. The new exemption is $70,300 for non-married filers and phases out beginning at $500,000.The elimination of the SALT deduction beyond $10,000 will also reduce those who are subject to AMT.
AMT Minimum Tax Credit Carryforward: There is a hidden jewel with the new AMT changes. Over the years, many taxpayers have not been able to utilize their AMT Minimum Tax Credit Carryforward due to being in AMT each year and the AMT Minimum Tax Credit is only applicable when you are not in AMT. With the increased AMT exemption and increase of when the exemption phase-out begins, most taxpayers will not be in AMT for 2018 and beyond. Therefore, taxpayers will be able to utilize some (generally not all) of the AMT Minimum Tax Credit Carryforward. An AMT Minimum Tax Credit Carryforward is only generated on deferral items (one being incentive stock options (ISO's)).
Medical Deduction: Medical expenses beyond 7.5% of your AGI is deductible (up to AMT), prior rule was the medical expense had to be above 10%. This lower threshold is only for only 2017 and 2018, goes back to 10% of AGI in 2019.
Beefed up 529 Plan: In the past, funds invested in 529 savings accounts was not taxed, but it could only be used for college expenses. Now, up to $10,000 can be distributed annually to cover the cost of sending a child to a "public, private or religious elementary or secondary school."
Alimony Payments: Alimony payment are no longer deductible for the person who writes the checks. This provision will apply to couples who sign divorce or separation paperwork after December 31, 2018.
Moving Expense Deduction: Eliminated except for members of the military.
Unreimbursed Business Expenses, Investment Expenses, CPA Fees, & All 2% Itemized Deductions: Deductions are eliminated starting in 2018, but slated to come back in 2026. Business expenses related to a trade or business are still deductible, but unreimbursed expenses related to a W2 job are no longer deductible.
Theft & Casualty Losses: If you're a victim of a house fire, flood, burglary or similar event, you can generally deduct the losses subject to limitations, but the new tax plan only allows these deductions during an event that the President officially declared to be a disaster.
Charitable Deduction Expanded. The charitable deduction expands for those who itemize, from 50 percent of AGI to 60 percent. The charitable deduction is denied for payments made in exchange for seats at college sports games.
Itemized Deduction Phase-out: The phaseout of itemized deductions (Pease) has been eliminated.
Estate Tax: The amount of money exempt from the estate tax, previously set at $5.49 million for individuals, and at $10.98 million for married couples, has been doubled.
Chained CPI: The new legislation uses "chained CPI" to measure inflation. It's a slower measure than what was used before. Over time, that will raise more money for the federal government, but deductions, credits and exemptions will be worth less.
Obamacare Individual Mandate: Eliminated in 2019 as well as the penalty for not having insurance.
Section 199 Deduction: Section 199 deduction (also referred to as the domestic manufacturing deduction, U.S. production activities deduction, and domestic production deduction) 9% deduction is eliminated.
20% Deduction for Pass-Through Businesses: A new 20% deduction is available to all pass-through businesses (S-Corps, partnerships, Schedule C (sole proprietorship), Schedule E (rentals), and Schedule F (farming), trusts, and estates) for 2017 through 2025. Tax law limits the 20% deduction to no more than 20% of the taxpayer's taxable income subject to ordinary income tax rates.
After the 20% deduction, the remaining income is taxed at your regular tax rate. For people who make more than $157,500 (or $315,000 for a married couple), the deduction is limited, or phased out entirely for people in certain "specified service businesses," including medical, legal and consulting practices (but not engineers and architects).
A specified service trade or business means any trade or business involving the performance of services in the fields of health, law, consulting, athletics, financial services, brokerage services, or any trade or business where the principal asset of such trade or business is the reputation or skill of one or more of its employees or owners (i.e. Dave Ramsey company), or which involves the performance of services that consist of investing and investment management trading, or dealing in securities, partnership interests, or commodities.
For those facing a limit on the 20% deduction (i.e. those not in special service trade or business and income is more than $157,500 (or $315,000 for a married couple)), the deductible amount is capped at 50% of the wages paid by the business or 25% of wages paid plus 2.5% of the value of the business's "qualified property," whichever is greater. Qualified property is tangible, depreciable property that pass-through businesses use to produce income.
The new deduction applies to businesses operated and real estate located "inside" the United States. Taxpayers do not get a deduction on pass-thru income earned "outside" the United States.
Sometimes a visual can help explain things: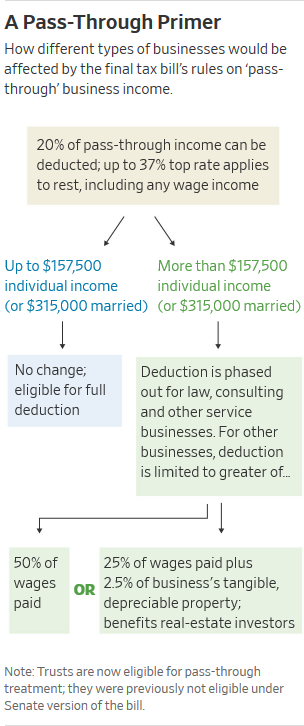 Carried Interest: The final bill makes a minor change to carried interest, requiring that those investments be held for at least three years instead of one to count as eligible for the long-term capital gains tax rate.
Stock Options: The final bill also allows some employees of private companies to defer immediate taxation for up to five years on the gain from exercising a vested stock option or when a share of restricted stock becomes vested. The deferral is not available to owners of 1% or more of shares, the chief executive officer, the chief financial officer and of the four most highly compensated officers for any of the last 10 years.
C-Corporation Rate: Final bill reduces C-Corporation rate from 35% to 21%. C-Corporations are still subject to double tax when they pay out the retained earnings to shareholders and the shareholders have to pay the 15% or 20% qualified dividend tax.
Research & Development Credit: The R&D credit was not eliminated. Currently, companies can claim a 50% tax credit for qualified clinical testing expenses incurred in testing certain drugs for rare diseases or conditions, generally referred to as "orphan drugs," affecting fewer than 200,000 persons in the US. The conference agreement follows the Senate amendment, but reduces the credit rate to 25 percent of qualified clinical testing expenses.
401-K Loans: Under the legislation, people who leave a company with a 401(k) loan outstanding would be able to repay the loan by the day they file their federal tax returns. Currently, such employees are typically required to repay 401(k) loans within 60 days of their departure.
Recharacterizations of Roth conversions: The tax package would do away with recharacterizations of Roth conversions. With a recharacterization, investors who convert a traditional IRA to a Roth IRA can "undo" the conversion, nullifying the tax bill they would otherwise have to pay. Taxpayers who did a conversion this year and are considering recharacterizing it must act by the end of 2017.
Full expensing of qualified property: The bill modifies section 168 bonus depreciation to allow for full expensing of qualified property (essentially 5 year property) placed into service after September 27, 2017, and before January 1, 2023. Thereafter, the bonus depreciation percentage phases down annually through 2026 (80 percent in 2023, 60 percent in 2024, 40 percent in 2025, and 20 percent in 2026). Property with longer production periods and certain aircrafts receive an additional year of full expensing, with phase downs also beginning a year later. The full expensing provision also eliminates the current requirement that the original use of the property begins with the taxpayer. Thus, property qualifies under this provision as long as the property was not used by the taxpayer prior to the time of acquisition.
Section 179 expensing: The bill increases the section 179 expense election threshold to $1 million. The phase-out of this expense election begins when the cost of qualifying property reaches $2.5 million. The bill also expands the definition of section 179 property to include certain property used in furnishing lodging, and roofs, heating, ventilation, air-conditioning property, fire protection and alarm systems, and security systems for nonresidential real property that are placed in service after December 31, 2017.
Luxury Automobile (Sedans) Depreciation Limits Increased: For passenger automobiles placed in service after Dec. 31, 2017, in tax years ending after that date, for which the additional first-year depreciation deduction under Code Sec. 168(k) is not claimed, the maximum amount of allowable depreciation is increased to: $10,000 for the year in which the vehicle is placed in service, $16,000 for the second year, $9,600 for the third year, and $5,760 for the fourth and later years in the recovery period. For passenger automobiles placed in service after 2018, these dollar limits are indexed for inflation. For passengers autos eligible for bonus first-year depreciation, the maximum first-year depreciation allowance remains at $8,000. (Code Sec. 280F, as amended by Act Sec. 13202)
Net Operating Loss: The bill would repeal net operating loss carrybacks and limit carryforwards to 80% of taxable income.
Repeal of technical termination of partnerships: Under current law, a partnership terminates if within a 12-month period there is a sale or exchange of 50 percent or more of the total interests in partnership capital and profits (commonly referred to as a "technical termination"). When a technical termination occurs, the business of the partnership continues in the same legal form, but the partnership is treated as newly formed and, thus, must, among other things, make new elections for various accounting methods and restart depreciation lives. Under the provision, the technical termination rule would be repealed. Thus, a partnership would be treated as continuing even if 50 percent or more of the total capital and profits interests of the partnership are sold or exchanged, and new elections would not be required or permitted. The provision applies to partnership taxable years beginning after December 31, 2017.
C-Corporation Alternative Minimum Tax: The bill repeals the corporate alternative minimum tax for tax years beginning after December 31, 2017. Taxpayers may claim a refund on any AMT credit carryovers – 50 percent of remaining AMT credits in tax years 2018, 2019, and 2020, and a refund on all remaining credits in the tax year 2021
TAX RULES THAT DID NOT CHANGE:
Personal residence Section 121 Rules: Taxpayers will continue to be able to exclude up to $500,000 ($250,000 for single filers) from capital gains taxation when they sell their home, as long as they have lived there and owners on title for two of the previous five years. Earlier versions of the tax bill would have imposed a longer time frame.
Student Loan Interest: You can still deduct up to $2,500 of student loan interest as long as your income is under the threshold.
Medical Deduction: Deduction actually got better, new threshold is medical expenses are deductible if they are beyond 7.5% of your AGI rather than 10% of your AGI. However, AMT does limit this deduction. This lower threshold is only for only 2017 and 2018, goes back to 10% in 2019.
Teacher $250 Deduction: Educators can continue to deduct up to $250 to offset what they spend on classroom materials.
Electric Car $7,500 Credit: Drivers of plug-in electric vehicles can still claim a credit of up to $7,500. Just as before, the full amount is good only on the first 200,000 electric cars sold by each automaker. GM, Nissan and Tesla are expected to reach that number sometime next year.
Tuition Waivers for Graduate Students: Graduate students still won't have to pay income taxes on the tuition waiver they get from their schools.
Employer Paid Tuition: When employers pay your tuition for continuing education, the amount they pay is not taxable income for you as long as it meets certain conditions and amounts to no more than $5,250 a year. The House had proposed that the benefit be taxable, but the final bill does not have this provision.
Retirement Accounts, 401K: No changes to the tax-free amounts taxpayers are allowed to put into 401(k)s, IRAs and Roth IRAs.
Selling of Stock First-in-First-Out (FIFO): Proposal of making stock sold on a FIFO basis did not make the final bill, you can still chose which specific shares to sell.
Research & Development Credit: The R&D credit was not eliminated. Currently, companies can claim a 50% tax credit for qualified clinical testing expenses incurred in testing certain drugs for rare diseases or conditions, generally referred to as "orphan drugs," affecting fewer than 200,000 persons in the US. The conference agreement follows the Senate amendment, but reduces the credit rate to 25 percent of qualified clinical testing expenses.
High Income 20% Capital Gain and Qualified Dividend Rate, 3.8% Net Investment Tax, & .9% FICA Tax: As with both the House and Senate versions, the final bill retains the 20 percent special tax rate for long-term capital gains and qualified dividend income, the 3.8 percent tax rate on certain levels of net investment income and the 0.9 percent FICA-HI tax rate on certain levels of earned income.
Are you still reading…good for you. Above is not all the new tax changes, but covers a good majority of the items that will impact most taxpayers. Let me know if you have any questions. Happy New Year!
Michael R. Noon, CPA, MSA
Partner
Prudhomme Associates CPAs
43460 Ridge Park Dr. Ste 220
Temecula, CA 92590
Tel: 951-676-3131
Fax: 951-676-4141