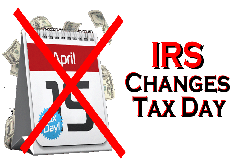 As we comply with the State of California's Executive Order requiring us to remain in our homes, we want to let you know that we are all working remotely and moving forward on your accounts. We have reduced our on-site office personnel to a minimum. If you call the office, our switchboard may be down, but you may leave a voicemail for anyone in the office and your call will be returned promptly. You can also reach out to us by e-mail. Please contact any of our staff at their office e-mail address. If you don't have a direct e-mail address for one of our staff, please leave an e-mail message on our website on the "Contact" page, and we will get back to you promptly. We will respond by e-mail or telephone call from our remote locations.
• The Treasury Department has extended the April 15 tax filing deadline to July 15, 2020, which will provide relief from the disruptions of the Corona Virus Pandemic.
• We will continue to be working diligently to complete your tax returns and coordinate electronic filing with you on a continuous basis throughout the California "Stay at Home" order.
Thank you for your patience during this time. We are doing our best to be a reliable resource for all of our clients.
Stay safe everyone!